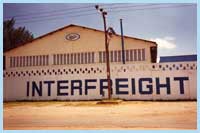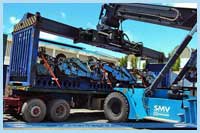 Profile of Interfreight GmbH


Established:
Interfreight GmbH was established in 2006 by Ramon Barniol Pericas.

Technical competence:
As an absolute insider in its sector, Interfreight GmbH offers itself as an executing service provider of first class forwarding, mediation and combined transportation solutions. National and international logistics services and technologies are always at the forefront.


Challenges::
As a young and dynamic company in its sector, Interfreight GmbH has its tasks on its finger-tips like no other company does. Quick decision-making enables the experienced team to work professionally from all perspectives. Besides guaranteed top terms and conditions, we satisfy your requirements in logistics with a multiplicity of responses and background information.

Benefits:
Especially in East Africa, Interfreight GmbH offers a network of cross-discipline logistics modification as well as special solutions for tricky tasks on nearly all "freight matters".


Using database knowledge:
Interfreight GmbH additionally offers a database knowledge pool about relations between parent company and subsidiaries, their countries of origin as well as destination markets in connection with "up-selling" and "cross-selling options".

General conditions:
We work in relationship to our customers exclusively based on the German Forwarders Standard Terms and Conditions (ADSp), newest edition 2017.





Informationen:
---
TEL: 0049 6105 975088-0

FAX: 0049 6105 975088-15

---
E-MAIL: info@interfreight2006.com

---